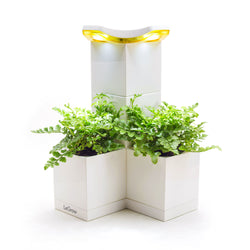 The LeGrow Smart Garden is a complete indoor garden ecosystem. It's a modular setup where each pot acts as a building block. You can stack, expand, and build your own garden as you wish! 
With our internal water reservoir design, you can water them less frequently. It captures the excess water, it also allows the pots to be placed on your desk or furniture with less risk of leakage or soil escaping.
The two-bulb LED grow lamp provides nourishing light for a variety of plants. It can be set in 6-hour increments. Generating up to 50,000 Lux and height adjustable, our lamp is perfect for winter growing. Check HERE for another LeGrow with quick charging feature.
*Note: USB charging cable without plug is included 
Designer: Haobin Lin
| | |
| --- | --- |
| Pot dimensions  |  8.5 x 8.5 x 10cm |
| Corner tray dimensions  |  17 x 17 x 2cm |
| Material  |  Anti-UV ABS Plastic |
| LED  |  2x 3000K LED bulbs  |
| LED Max Output  |  50000 LUX |
| Water Storage Capacity  |  30ml  |

What is DesignNest.com?
DesignNest is a one-stop platform for designers to launch their products worldwide, for retailers to order innovative products for their stores and for consumers to afford these designs from authentic designers. 
Read the story behind rebranding HERE - DesignNest Rebranding: A New Logo Stands For What DesignNest is.
Vision & Mission
Make product design accessible and affordable for everyone.
Creating an end-to-end platform for funding, engineering, manufacturing, marketing, sales and fighting copycats - serving designers, retailers and consumers.
Welcome to Our Online Store!
You're at DesignNest Europe Online Store. This is the official DesignNest webshop for Europe.
In 2019, Allocacoc as the founder of DesignNest has decided to do a rebranding and focus on the development of DesignNest. Our webshop's name is going to change from "Allocacoc Europe Online Store" to "DesignNest Europe Online Store" on 1st July. (Read the rebranding letter: allocacoc has a new name)
Here we have designer's one-of-a-kind products from DesignNest.com and the most complete range of PowerCube® collection and other Allocacoc products in Europe. If you like our products, please leave a comment on the product page!
For all official online stores and authorised reseller stores, please visit here.